My First Marathon Was Agony – and the Cure for My Broken Heart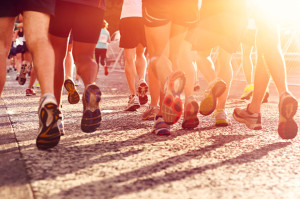 By Sarah Tomlinson | April 19, 2015 | Salon.com | Photo credit: Warren Goldswain via Shutterstock.
Before the starter's pistol, I knew I was unprepared to run my first marathon in August 2013. It didn't hit me that I was potentially worse off than I'd thought until about the seven-mile mark. I found myself panting and gnashing my way up a trio of killer hills, and that with nearly 20 miles left to power through somehow.
A male runner—who'd passed me going up the second of three steep hills that opened the course—lost speed on a downhill stretch, allowing me to draw alongside him. To engage or not to engage? At first, I thought not. He was the kind of guy I normally would have steered clear of – slightly shorter than me, which can be an issue for men, perfectly fit, and outfitted in the perfect workout gear. But I was about a quarter of the way into what was going to be a long morning, and I let the male runner, Michael, strike up a conversation with me. I told him I was trying to qualify to run the Boston Marathon in 2014, and he looked at me doubtfully.
"That's really fast," he said.
He'd qualified for – and run – Boston several times, as he was well into his personal goal to run a marathon in every state. He'd also flown himself to a marathon in Drakes Well, Pennsylvania, in his own private plane, a detail that has no bearing on this story but says a lot about why I love runners. They've got a self-reliant stubborn streak I admire, except when I'm dealing with the situations my own stubbornness gets me into – like this marathon.
Michael asked about my training history.
"I ran 20," I said. "That's the most I've done."
"When was that?" he asked.
"Around the fourth of July."
"What's the most you've run since then?"
"Sixteen."
He just nodded, his face expressionless. I'd meant to run more, train harder. I really had. I'd been a daily runner for 14 years. But when I impulsively chose to try for Boston in a show of solidarity with my former hometown in the wake of the bombing, I'd never run more than eight miles at a time.
I was living in Brooklyn, and I hadn't counted on how much I would struggle against the heat and humidity in my training that summer. I'd wake up at 6 a.m. to run. It was 80 degrees. I'd wait until 9 p.m. to run, straining my eyes as I panted through the streets of my neighborhood, trying to avoid catching my foot on a bubbled stretch of pavement, and it was still 80 degrees.
I was also pushing myself hard to finish a first draft of the memoir I'd sold earlier in the year. Finally, it hit me one day. In order to make the qualifying time, which for my age group, they were estimating at three hours and 20 minutes that year, I was going to have to train much harder.
I can either finish this book or qualify for Boston, I thought.
I tried to be proud that I would finish my first marathon and write my first book of my own in the same year, but I'm far too competitive and too much of a perfectionist to fall for soggy pep talks like that. Still, I was determined to do both. I kept writing. I kept running.
It was a hard spring and summer. My memoir was about my painful relationship with my dad, and how it had played out in my relationships with men over the years, and in order to write it, I'd had to pick off each and every scab of my life, one by one. And I'd done so without the luxury of my former vices to distract me. In the past, I'd salved both the wounds themselves and my exploration of such painful subjects – whether in therapy or in prose – with a drink. Or a fling. Or my favorite drug of all – a staggering load of professional deadlines and self-imposed personal writing goals. Now, all I had was my book.
I was sticking with mineral water and tea for the duration of the writing. I'd just had my heart broken, so I was skirting the neighborhood bars and cafes where I might meet someone new. And as far as my writing went, there was nothing but my book, which was really just me, and my relationship with my dad, laid bare on the page. Every time I wanted to look away, I had no choice but to look, and to keep looking until I untangled whatever emotional mystery had plagued me and put it into some kind of order – and story – that would hopefully be resonant to readers.
By late August, I'd finished a draft of my memoir that came in at a whopping 1,058 pages. I was elated. And completely overwhelmed. My agent forbade me to hand in the draft to my publisher until I got it down to 400 pages, ideally below. I'd been hired to ghostwrite a book for a new client based in L.A., which meant packing up once again, and at least temporarily, leaving behind my new life in Brooklyn, the site of the heartbreak, as well as the scene of the memoir immersion. Honestly, I was glad to go. All I had to do first was run one little marathon.
Back on the trail, my new runner friend, Michael, had no idea what this marathon meant to me. We'd just hit mile eight when he pulled out a small package of the jellies long-distance runners consume mid-race to counteract glycogen depletion.
"You want some?" he asked.
"No, thank you, I'm good," I said. "I've got a GU for later."
He looked at me from the corner of his eye, moving as little as possible, every inch of his body intent on conserving precious energy for his race and his time.
"You want some," he said. "Believe me. I always eat them at mile eight to keep from bonking. Keep your GU for later. I've got plenty."
"Thanks," I said.
Even stubborn me knew enough to be grateful for his kindness. I extended my hand. He shook out a half-dozen bright red jellies. I ate one, and then another, saving a few for later, even though they were heating up and squishing out nearly flat in my sweaty palm.
Michael and I talked as we ran together for several more miles, passing the 10-mile marker, where my friend Cathy had strategically placed herself to cheer me on. I could tell she hadn't expected me to reach her so quickly and was impressed by my time. My dreams of Boston momentarily bloomed again, and I ran with renewed vigor. But then, somewhere in the next mile, it became clear my pace was beginning to flag, and Michael had to leave me behind in order to reach his own race goal.
"You're doing great," he said with a smile before he pulled away from me.
"Thanks," I said, trying not to feel bereft as he disappeared from view.
We'd been running on a country road and then through the town's outskirts, but now the race route took us down a bike path alongside a pretty creek. I knew I had to run this route until I hit mile 17.5, and it was time for me to loop back. For maybe a mile, I enjoyed the picturesque countryside, feeling grateful that the thick forest provided nearly constant shade and kept temperatures cool.
I came up behind a man, bare-chested, with a giant cross tattooed between his shoulder blades. The T-shape became my target, and I pushed myself, little by little, until I pulled up alongside, and then passed him.
"You're running really well," he said.
Having never gotten the attention and praise I'd always craved from my dad, it wasn't usually easy for me to take compliments from men.  But I was flagging, with miles yet to go. I flushed with pride and drove myself harder.
Around mile 16, everything went to hell. I was scared because I knew how crazy my body had felt after running a mere 20 miles earlier in the summer. I still had to complete that, plus another 6.2 miles. It seemed impossible. It seemed insane. The cross man passed me. And he wasn't the only one. More and more runners were coming toward me as they reversed their direction and made their way past me to the finish I was beginning to doubt I'd ever reach.
Every mile was agony, but especially hard were the alternating miles without anyone at the marker to offer Gatorade and cheer us on — just a silent plastic bag full of supplies. I kept running, my muscles screaming, wondering if it would be possible to stop running, even if I tried. My body was locked into its pace, no matter how much I wanted to be done, free of the perpetual motion machine I'd created within myself.
And then, from the midst of my physical suffering, as I scanned my mind over every millimeter of my body, analyzing the different flavors of pain, making sure they were the typical results of running long distance and nothing indicating an injury, I realized there was one single part of my body that didn't hurt – my heart.
I'd been heartbroken for months, in both the present-day disappointment of my recent romantic letdown and while reliving the nearly lifelong disappointment of my relationship with my dad. I'd felt every variation of the blues – the kind that craves sad music, the kind that craves chocolate, the kind that craves any human contact, the kind that craves more and more miles even after a 10-mile run because, really, what it craves is oblivion. All of that pain was suddenly absent.
Or maybe it had temporarily left me because nothing could compete with the all-encompassing discomfort of my marathon, as I hit the 17.5-mile marker and looped back, now the one passing runners who had yet to hit this milestone.
No, I realized, my elation growing, this isn't relative. I'd achieved something real that summer. I was sure of it. Something like healing, like peace. By sticking with my writing and my relationship with my father – going to see him once a month in Boston, even when he spoke harsh truths – and in completing this marathon, even when it had become clear that it had been a rash decision and a real physical feat for which I was ill-prepared, I'd healed and eventually strengthened something in myself. This is what I'd hoped could happen if I trained, day after day, for an athletic endeavor and returned to the page, day after day, in search of the writer I could become. I had stuck with both challenges, even when it was clearly impossible for me to complete either of them as I wanted to do everything: perfectly.
I'd done what we all must do when we're in any kind of grief – heartbreak or the kinds of losses that upend families and careers – I'd kept going, day by day, until the ache had lessened, and the blues had lightened, and my happiness was finally mine, in a way it had never really been before.
In that moment in the swampy mass of pain and stress that was my consciousness at the 24-mile marker, even as my mind began to lose clarity, I had a final thought: No matter how bad this feels, it will never feel as bad as having a broken heart. And yes, my heart will be broken again by loss in the years ahead – that's part of the privilege of being here – but given enough time and an acceptance of how life don't always unfold as planned, training doesn't always go as smoothly as hoped, work takes longer than we want it to, endurance is possible and, given a chance, it brings the gift of grace.
As I approached the final half-mile of the marathon, I couldn't quite admit I was really going to do it, not yet, just in case. But the euphoria that had bloomed was beginning to lift me from within. And then, I rounded a bend and emerged from the trees. The path crossed a winding two-lane road before entering the track where I would finish a partial lap, learn my finishing time, and earn my medal. And there was the day's second magic surprise: Michael was standing in front of his truck, his own medal around his neck, his arms up in the air in a gesture of victory and exhilaration. Even though he'd been done for at least half an hour, easily qualifying for Boston, he'd waited around, certain I'd finish, because he wanted to cheer me on.
"You're doing great, Sarah," he shouted. "This is such a good time for your first marathon."
If I weren't already using every ounce of focus (and moisture) in my body, I would have burst into tears.
"Thank you," I said, touched and moved. "Thank you."
I didn't qualify for Boston, but I had done what I set out to accomplish, and I felt prepared for my drive back to Los Angeles, and all of the running ahead.
Sarah Tomlinson is a Brooklyn- and Los Angeles-based writer. She has ghostwritten twelve books, including two uncredited New York Times bestsellers. Her articles and music reviews have appeared in publications including Marie Claire, The Los Angeles Times, and The Boston Globe. Her father-daughter memoir, "Good Girl," will be published by Gallery Books (Simon & Schuster) on April 21, 2015.
Tags: Boston, Boston Marathon, essay, Good Girl, marathon, personal essay, runner, running, Salon